We're fully back in the swing of things this week, equipped with my newly developed zen attitude toward homeschooling.
We finally started our unit on Egypt! We're using Chapter 3 of Roy Burrell's Oxford First Ancient History as our history spine*, supplemented with lots of books we checked out from the library.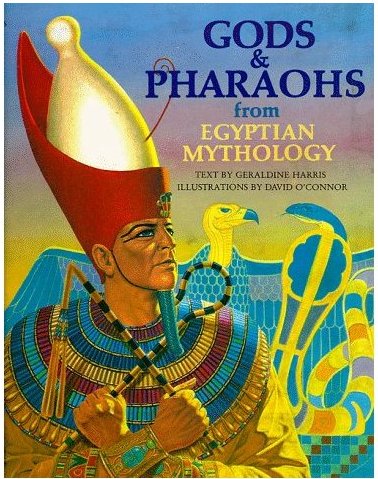 This week we read selections from Gods and Pharaohs by Geraldine Harris. This book, beautifully illustrated by David O'Connor, provides a very good overview of Egyptian mythology. There are stories about the various gods and goddesses included, and I really like how Harris interjects occasionally to note that many of the myths we have come to see as "complete" are actually cobbled together from many different sources. For example, when she discusses the creation myths of ancient Egypt, she includes many different versions of the story, each with a slightly different twist. I saw this book on Amazon some time ago, but I wasn't sure it was worth purchasing. After reviewing the library copy, I think it would be a wonderful addition to our collection.
In Life of Fred: Edgewood, the title's hero, Fred Gauss, has been forced to go on a vacation of sorts to the remote town of Edgewood, Kentucky. On the bus ride to Edgewood he is teaching us about many things, including this week's lessons on double-digit addition. Lillia already learned this skill last year in second grade, but it is good to have the review. And, there is so much learning going on within each lesson that it doesn't feel repetitive. For example, Lillia learned to solve the following equation this week: x + 8 = 13. She, correctly, determined that x = 5. It may not seem difficult to us adults, but the fact that Fred's author, Stanley Schmidt, is already including simple algebra in his elementary curriculum means that when Lillia encounters algebra later in her education it won't seem so foreign. As always, I am enormously pleased with the Life of Fred books.
We did another lesson from the Mensa for Kids website. This time we learned about the different levels of classification (Kingdom, Phylum, Class, Order, Genus, Species). We learned a couple of useful rhymes to help us remember the them in order. My favorite is:
Keep Ponds Clean Or frogs Get Sick.
As always the kids keep me (and each other) active! Today they had a blast playing in the tunnel we bought Zane for Christmas. It so interesting to see how very differently they play with any given toy. While Zane is still figuring out how to get his body through the tunnel,
Lillia is pretending to be a wolf in a cave!
The most fun they had with it was being in there together 🙂
For those who might question the legitimacy of taking time to crawl through a tunnel during "school" hours, some studies have shown a correlation between crawling and cognitive development and improved academic outcomes later in a child's life. Crawling helps to develop balance, proprioception, and even binocular vision. Here is a nice article about crawling by two of my former instructors in early childhood education, Susan Weber and Jane Swain. And, some other great ideas to get your kids crawling, from pediatric occupational therapist Loren Shlaes.
I hope you all had a great week!
*As of today (1/11/13) there is a "very good" used copy of this book selling for about $30 on Amazon! This book can be quite expensive to buy, as it is out of print, and is very popular with Charlotte Mason homeschoolers. I paid $37 from Alibris back in July and thought that was a good deal.