I feel a bit sheepish today, as I just realized I never finished my post for last week! I got so caught up in things that I never managed to get it done. So, this week will be a combination of the past two weeks. I'm going to try to include info about both kids each week. I know Zane is not doing any formal "schooling," but his learning is important, too, and I want to share it. But, first…
Lillia's Adventures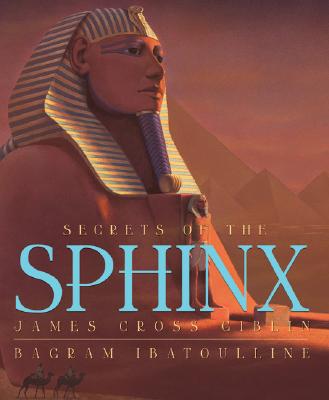 Our unit on Egypt is coming along nicely. In the past couple of weeks we've read about the discovery of metal and the implications of that discovery for tool-making, the building of temples and pyramids, and Egyptian shipbuilding. I was able to find some great books at the library to supplement the history spine we are using. Last week we read Secrets of the Sphinx, by James Cross Giblin, illustrated by Bagram Ibatoulline. Although it is a picture book, it includes a great deal of information about the building of the sphinx, including the controversy surrounding the nature of its construction (due to the uneven weathering of the body). In my opinion, the author should have spent less time discussing Edgar Cayce and his theory that the survivors of Atlantis built the sphinx and the pyramids. The author does eventually discount this theory, but at points he seems to be trying to make it sound plausible. Other than that, I think this is a wonderful, information-rich book about the sphinx and the pyramids at Giza. One thing I was surprised to discover is that the sphinx was once brightly painted in shades of blue, yellow, and red! It must have been strikingly beautiful when it was new.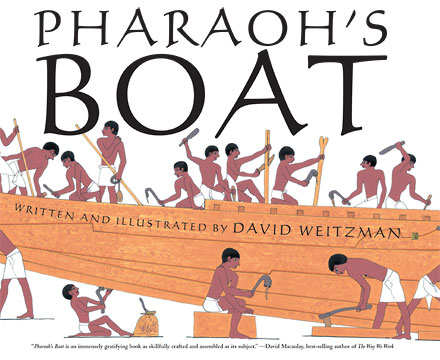 This week we read Pharaoh's Boat, by David Weitzman. This picture book tells the story of the discovery of Cheops's funerary boat buried next to his pyramid in a limestone pit. The disassembled cedar wood boat was in near-perfect condition, despite being placed in the ground almost 5,000 years ago! It took ten years to complete the reconstruction, but the boat is now fully restored and on display at Giza. A second boat has been discovered at Giza, though it is not as well-preserved as the first. As of 2011, the dig to recover the pieces was underway. My favorite part of this story was actually the biographical information about the restorer, Ahmed Youseff Moustafa. Though well educated, he was not taken seriously when he first approached the Egyptian Antiquities Service looking for work as a restorer. He pestered his superiors endlessly, and finally someone gave in and gave him basically a pile of tiny bits of pottery and ivory to reassemble. Imagine their surprise when he returned with a beautiful little box, which is now known as "The Akhenaten Box" and is on display in the Cairo Museum!
We're still making progress in our other subjects. Lillia has now made it to the letter "O" in cursive. She had a pretty big meltdown earlier this week when she had to write the word "and" in cursive for one of her exercises. But, I patiently talked her through it, and she was eventually able to do it correctly. This is part of the work that we are doing, and we are fortunate to have the time and space to do it.
In Life of Fred: Edgewood, we are learning about percents and bar graphs. We are also doing word problems. Here is an example (Lillia was able to solve this problem by counting by 5's):
If Fred can jog at the rate of 5 miles per hour, how long would it take for him to jog 40 miles?
Next week I'm hoping to introduce some supplemental multiplication materials. Homeschooling presents an interesting paradox: we have a great deal of flexibility regarding the what/when/how of teaching, which means we don't have to "teach to the test" like they do in public school – HOWEVER – we are required to show progress at the end of the year, and one way to do that is to have her take the test! So, we are benefiting greatly in some ways by eschewing the need to teach concepts just to pass the test…but we are also expected to pass it. I find myself trying to keep pace with the public school curriculum, despite my general abhorrence of it. I have no doubt that Life of Fred will present multiplication in a beautiful, organic way, but I'm afraid we won't get there in time for this spring's test, and I'm sure there will be multiplication questions on it. If anyone has any advice about this, I'd love to hear it. Or, if you want to tell me to chill out and not lose sight of the reasons that brought us to homeschooling in the first place, that would be good, too 🙂
Zane's Adventures
Zane has been really interested in this baby doll lately.
He kept gently placing her in front of the refrigerator and then talking to her at length about the button on the door handle. The button doesn't do anything, but it obviously means something to him!
He also got a chance to see the inside of Damian's computer, thanks to a technical difficulty.
And, let's not forget the face cream sensory extravaganza! (Not really part of the curriculum, but…)