It's the end of the fourth week, and now we're really finding our groove! After lamenting to a friend (and former homeschooler) about my daughter's lack of internal motivation I was told that, if I was patient, Lillia would become the student I want her to be. I think my friend was on to something, because this week Lillia really stepped it up, in terms of cooperativeness, quality of work, and enthusiasm. I don't think we had a single meltdown all week.
Even though she struggled to master cursive "b" she persisted until she got it right (there was a bit of resistance, but nothing like a temper tantrum). She seems to think that my criticizing her work is a reflection of how I feel about her, and that couldn't be farther from the truth! However, when I made her erase the ones that came out poorly, then showed her what was wrong, she was able to do a much better job (and, I think, was secretly proud of herself).
As her teacher, I have to be objective, and be willing to point out her mistakes, even while the mom in me wants to coddle her and tell her that her work is perfect every time. How do you deal with the parent/teacher dichotomy?
Highlights from this week:
Reading: We're still working on Anooka's Answer, by Marjorie Cowley. This is a story about a girl living in Europe during the last glacial maximum (ice age). She discovers a hidden talent for creating figurines from clay, but this practice is prohibited for women in her tribe. Lillia seems to like it.
Writing: We didn't do any formal writing this week, as I am still trying to choose which program to use. I have four to choose from, and they are all very different. I plan to decide over the weekend, and start a formal writing program on Monday. We are still doing our drop-down webs for history.
Spelling: We have been working our way through McGuffey's Eclectic Spelling Book. I will have her do little sections daily until we get to a point where she gets a certain number wrong (maybe 3 or 4?), and then we will actually do a formal study session. So far, the words are so easy that she hasn't gotten any wrong, but the words do get harder. My husband and I had a great time quizzing each other on the later lessons.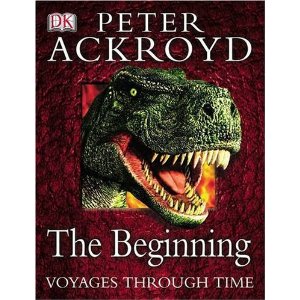 History: We just finished our first history "spine," Voyages Through Time: The Beginning, by Peter Ackroyd. Overall, I liked this book. It did a nice job of covering the Earth's history from the Big Bang through the Ice Age. There were moments when the writing was almost poetic, but then times where it was quite dry. I wish he had written more consistently in the "narrative" voice, instead of trying to be so scientific. Also, the illustrations were TERRIBLE! Now, this is purely based on my opinion, and what I look for in an illustrated children's book. What I really want is beautifully rendered watercolor illustrations. I detest computer generated graphics, which is what was used for this book. I actually didn't really show the pictures to Lillia because they are so uninspiring. Would I use it again? Maybe. But, I would probably just use Jennifer Morgan's series, which cover roughly the same material, but are so eloquently written and beautifully illustrated. The only reason why I didn't use them is because Lillia has already read them many times.
Mathematics: We're still in Life of Fred: Butterflies, but I have ordered the next book since we are almost done with this one already! I cannot praise this series enough. Lillia loves it, and even I have learned a lot from it. This week, we covered the concepts of ordinal and cardinal numbers, and orthogonal (ex: perpendicular) lines. I love that she is learning all of these concepts in such an organic way, through Fred's life and adventures. All of the math that she learns makes complete sense in the context of the story. It's never arbitrary. Seriously, this is an amazing math curriculum.
Science: I decided to switch gears and just spend this year doing a combination of life science and astronomy. We are reading the Burgess Bird Book for Children and recording what we learn about each bird in our science journal. This week we learned about the wren and the English sparrow. I just received my astronomy curriculum from Memoria Press this afternoon. I haven't had a chance to really look it over, but I will certainly write more about it in the future.
On a side note, Lillia is thrilled because she has been cast as an angel in this year's Nutcracker performance at Moco. She's going to be busy with two dance classes plus the Nutracker repertory class, but she seems to be having fun. And, unlike last year, she isn't exhausted in the afternoon when it's time for practice. Getting the amount of sleep she needs, eating when she is hungry, and having time to relax during the day allow Lillia to be successful in ways she couldn't be before (when she was sleep deprived, starving, and overstimulated at school).
Hope you all had a great week, too!