This was a bit of a light week, work-wise, because I had a terrible cold for most of it. A lot of the work we do involves my reading out loud and I just didn't have the energy (or the voice) for doing much of that. Still, we did get some work done.
Lillia's Adventures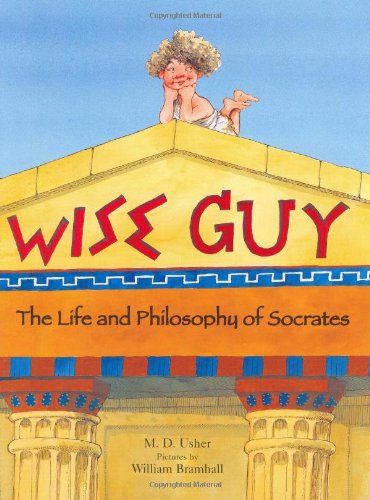 We are continuing our work on Ancient Greece. This week Lillia read Wise Guy: The Life and Philosophy of Socrates, written by M.D. Usher and illustrated by William Bramhall. One of the great features about this book is that there is a narrative aspect which provides an overview of Socrates's life, but also on each two-page spread there is an info box with more detailed information about his life and philosophy. I'm not sure how Lillia read it, but I thought it was nice that there was an option to read just the story, or just the boxes, or both, in whatever order one chooses. The illustrations are also nicely done — Socrates is not often depicted as a child, but I think the illustrator did a great job of portraying him in his youth. We're also still reading Black Ships Before Troy and just finished up the part of the story where Patroclus is killed. If you've read The Iliad then you know what happens next! (Hint: things don't look good for Hector…) Next week, when my voice has returned, we will start reading about Archimedes as a nice way to tie the history of Science in to our Humanities unit on Ancient Greece.
Because I was not feeling that great, Lillia picked up a lot of the slack this week. She did some great independent work in math, but she did get pretty frustrated when confronted with multiplying two-digit numbers with one-digit numbers (ex: 24 x 3). At one point she ran out of the house in tears, but then I looked out the window and saw her trying to solve the problem with chalk on the driveway. When I thought she was calm enough, I joined her and tried to explain the process. I think she got it, for the most part, and practice will help. I have noticed this year that Lillia really wants to be alone when working through a hard problem. She doesn't want help, necessarily, unless she asks for it. I know it's because she doesn't want me to see her get the wrong answer. I am thinking about how to use this aspect of her learning style in a positive way. Suggestions?
I'm feeling a lot better now, so hopefully it will be full steam ahead next week.
Zane's Adventures
This week Zane was very involved in an interesting construction project. My husband, Damian, has been working hard this past week to build me a desktop for my "office" in our bedroom closet. Zane was really enamored of the whole process, especially the parts that involved power tools!
And, of course, once the boards were installed there was painting to do! Here he is "practicing" with some of the supplies.
Also, I am pleased to say that Zane can now correctly identify red, orange, green, blue, purple, and brown, at least most of the time. Color blindness runs in my family, on my mom's side, so there is a small chance that Zane is red-green deficient. Neither one of my brothers inherited the condition, so it's possible that my mom and I are not carriers, but we have never had that confirmed. He has no trouble at all identifying red, but sometimes confuses purple and green. I don't know if that's because those colors look the same to him, or just because he hasn't quite mastered them, in terms of labeling. He's too young to take a color vision test, so we'll just have to wait and see (no pun intended – ha!).
Mama's Adventures
I've been wrestling quite a bit this week with the subject of women in philosophy. I ordered the Young Person's Guide to Philosophy for Lillia and was thumbing through it when I noticed that there were only TWO women philosophers mentioned in the whole history of the discipline, dating back more than 2,000 years (Hypatia & Simone de Beauvoir). Was it possible that this was just an overly sexist book? I looked at the information about the assorted editors and consultants who helped to make the book…overwhelmingly female. And, to give the book's author credit, he tried really hard to include women whenever possible (mentioning the contributions of wives and mothers seems to be a popular technique). But, it turns out that philosophy has been, and STILL IS, so male-dominated that these two women accurately represent women's recognized (key word) achievements in the discipline of philosophy. Boy, does that make my blood boil. The old cliche that "women can't think" is alive and well, folks. And, I'm not the only one who has noticed. If you're interested in reading more, click on the links below. Now I'm on a quest to find a way to teach the history of philosophy to Lillia without bringing attention to the fact that 1/2 the population of the world has been virtually excluded from it…and still is.
"What is it like to be a woman in philosophy?" (a WordPress blog)
Women in Philosophy: Do the Math (from NY Times)
Name Five Women in Philosophy: Bet You Can't (from NPR)