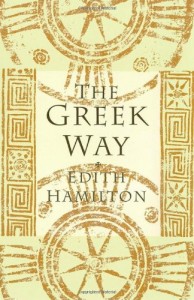 I have changed my mind…again. I decided to return to our history-based Humanities units. I had originally planned to go from Prehistory through the Roman Empire this year, but it looks like we will only get as far as Ancient Greece. Though there are those who might disagree with me, I think that the Roman Empire actually has more in common with the Middle Ages than Ancient Greece, anyway. Because of the breadth and depth of Ancient Greek culture, I am sure this unit will take us to the end of the year…and possibly beyond. My father-in-law lent me a copy of The Greek Way, by Edith Hamilton, and it was truly illuminating. She presents a very convincing argument about how different Ancient Greek culture was from any civilization before or after it. I highly recommend it as an introduction to Ancient Greek culture. And, Hamilton's prose is so beautiful that it is worth reading just to be in close proximity to a truly gifted writer. (A great deal of The Greek Way is available on Google Books, or you can buy it on Amazon.)
It is Hamilton's love of this culture that I hope, above all, to bring to our study of Ancient Greece. Here is a brief excerpt from her book:
Of all that the Greeks did only a very small part has come down to us and we have no means of knowing if we have their best. It would be strange if we had. In the convulsions of that world of long ago there was no law that guaranteed to art the survival of the fittest. But this little remnant preserved by the haphazard of chance shows the high-water mark reached in every region of thought and beauty the Greeks entered. No sculpture comparable to theirs; no buildings ever more beautiful; no writings superior. Prose, always late of development, they had time only to touch upon, but they left masterpieces. History has yet to find a greater exponent than Thucydides; outside of the Bible there is no poetical prose that can touch Plato. In poetry they were all but supreme; no epic is to be mentioned with Homer; no odes to be set beside Pindar; of the four masters of the tragic state three are Greek. Little is left of all this wealth of great art: the sculptures, defaced and broken in to bits, have crumbled away; the buildings are fallen; the paintings gone forever; of the writings, all lost but a very few. We have only the ruin of what was; the world has had no more than that for well on to two thousand years; yet these few remains of the might structure have been a challenge and an incitement to men ever since and they are among our possessions to-day which we value as most previous. There is no danger now that the world will not give the Greek genius full recognition. Greek achievement is a fact universally acknowledged. (Edith Hamilton, The Greek Way (New York: W.W. Norton Company, 1983), 12-13.)
With that in mind…
Lillia's Adventures
Lillia and the ever-present headphones…

As mentioned above, we began our study of Ancient Greece this week. We are using R.E.C. Burrell's Oxford First Ancient History as our spine. This week's readings were about the Minoans. We learned a lot about this mysterious civilization. Did you know that the Minoans used three different languages and that, so far, we have only deciphered one of them? These include the as yet undeciphered Cretan hieroglyphs and Linear A. The one language that has been deciphered is a descendant of Linear A which we call Linear B and it belongs to the Myceneans (who we will be studying next week). While we may know a lot about ancient cultures, there is still so much work to be done! Two whole languages yet to be deciphered! Our ignorance of Minoan languages presents us with the opportunity to show our children that there are still mysteries to be solved, and that there are many ways to make contributions to our knowledge of the past.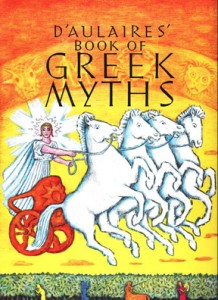 For the literature portion of our Humanities unit we are reading first D'Aulaires' Book of Greek Myths, by Ingri and Edgar Parin D'Aulaire. While there are many books of Greek myths written for children, this one is ubiquitous. I have seen it on many reading lists, and it is quite popular with those who follow the Charlotte Mason method of homeschooling. I was concerned that it might be a little too "young" for Lillia, but she loves it! This week we read about the union of Gaia and Uranus (Earth and Sky) and about the birth of their many children. We learned about the cast of characters that make up the Greek pantheon, their home on Mount Olympus, and we started to read some of their individual stories (Zeus, Hera, Hephaestus, and Aphrodite). I'm glad I purchased this book because I think it will be something that Lillia will want to refer back to, even when we're done with this unit.
We finally have in our possession the next Life of Fred book. In this volume we are diving right into multiplication. This week we learned 2×7, 7×2, 3×4, and 4×3. Lillia also had to do several Algebra problems involving these multiplication facts (such as 3y=12, solve for y). We're definitely behind the school district math program in regards to multiplication. But, Lillia has learned so much extra math (important stuff that will make learning concepts much easier in the future) that I am okay with the fact that we didn't cover all of the multiplication facts this year. She has plenty of time next year to catch up, and I'm sure she will.
Zane's Adventures
One word: TRUCKS.
Mama's Adventures
I received my final grade and am now a college graduate. I was a college graduate before, actually, because I received my A.A. in General Studies in 2005 (when prospects were bleak and I knew I wouldn't be able to finish my B.A.). But, even as a teenager I always envisioned myself finishing four years of college. Four years turned into thirteen and half, but I did finish what I started and I am proud of that. Although it means nothing to them now, I hope that someday my children will look at my accomplishment and see that if you really want to do something, you will do it. It takes perseverance, toil, and a lot of support from friends and family, but anything is possible. I truly believe that.