Here is a list of the books Lillia will be reading during the first six-week Humanities unit, during which we will be studying Prehistory — beginning with a quick overview of evolution on Earth from the Big Bang to the rise of Homo sapiens sapiens. We will concentrate a lot of our time on the Ice Age peoples of Europe and North America. I will post a reading schedule later this week or next, so you can see how I broke down the readings by chapter and/or page number so they are manageable for an eight year old.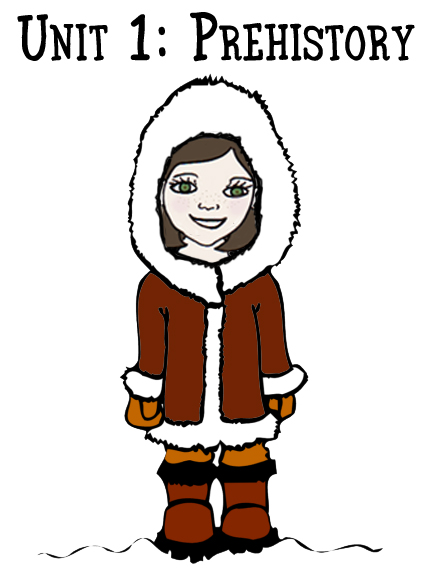 Disclaimer: I do not consider myself an expert on education. I do consider myself an expert on my particular child. This reading list is designed for a child reading proficiently at a late elementary/early middle school level.
Born With A Bang; From Lava to Life; Mammals Who Morph, Jennifer Morgan
Children of Time: Evolution and the Human Story, Anne H. Weaver
Oxford First Ancient History, R.E.C. Burrell
Anooka's Answer, Majorie Cowley
Maroo of the Winter Caves, Ann Turnbull
Mammoth Bones and Broken Stones, David L. Harrison
* I chose two books of historical fiction that have female protagonists. Marjorie Cowley also wrote a book called Dar and the Spear Thrower, which has a male protagonist. You could substitute that for one of the books I selected.
UPDATE 8/29/12: I've changed this list quite a bit since I posted it. I am now breaking it up into two subjects, covering History (which we will read together) and Literature (which she will read to herself) separately. This will still take us six weeks, but I have cut down the number of pages per day, to keep the lessons manageable, and that leaves us with fewer books. The other titles we can read at our leisure, like the Jennifer Morgan series which we have already read many times. Here is a more accurate picture of what we will read, including some new titles:
History
Voyages Through Time: The Beginning, Peter Ackroyd
Mammoth Bones and Broken Stones, David L. Harrison
If Stones Could Speak: Unlocking the Secrets of Stonehenge, Marc Aronson
Literature
Children of Time: Evolution and the Human Story, Anne H. Weaver
Anooka's Answer, Majorie Cowley